A post-lockdown surge in people looking to swap their urban lifestyle for a home in the countryside has led one independent Yorkshire housebuilder to ensure its new development ticks all the right boxes.
Mallard Homes even changed its plans part way through its Holmedale development near Richmond to add 1Gb fibre broadband and dedicated home offices, ensuring its properties were ideally suited to the new work-from-home needs of buyers.
Paul Heap, managing director of the Ripon-based company, said: "Following the challenges of the last six months, we are seeing a significant shift in people's needs and desires for their homes and lifestyles. Homebuyers are looking for affordable homes in areas that offer a better quality of life and more outdoor space. They are more willing to commute from the countryside, and many are also working more frequently from home. Our homes at Ravensworth are specifically designed to meet the needs of today's homebuyers, including younger, professional tech-savvy people who are abandoning built-up environments in favour of more space and greenery."
The Holmedale development in Ravensworth comprises a mix of five-, three- and two-bedroom detached and semi-detached houses, as well as a small paddock available for additional purchase. The first home to be released at the development has already sold, and the other homes are now available off-plan, meaning they can be personalised if plots are reserved early.
And, with all the homes due to be completed by the end of March next year, buyers can take advantage of the current stamp duty holiday, which could save them up to £15,000.
Richard Thompson, director at Marcus Alderson Estate Agents in Richmond, welcomed new developments which were addressing specific housing needs in the area, adding it would be vital for the future.
He said: "The property market here is very buoyant at the moment. According to the ONS, in June 2019 Richmondshire was the third least populated area in England, which makes it hugely desirable in the current climate. In addition, a recent survey by Rightmove found that searches have doubled for homes in places with populations of less than 11,000 – and Richmond has around 8,500.
"The area offers all the benefits of country living, alongside amenities such as schools and shops, including the highly-rated independent Barnard Castle School and the forthcoming Scotch Corner Designer Outlet Village. It's not surprising it was named the best place to live in England by the Halifax's quality of life survey in 2019.
"But a key factor in its desirability is our fantastic commuter connectivity, with the proximity of the east coast mainline and the recent upgrade of the A1 to a three‐lane motorway making journey times faster."
Mr Heap said the Holmedale development had been designed to meet the needs of both existing residents and the new wave of homebuyer from further afield, while also reflecting the company's green ethos.
He added: "As a company, we are committed to sustainability, both in the design of our homes as well as in our construction methods. We are leading the way among small housebuilders in using modern building processes and ensuring our homes are designed for sustainable living, now and for the future.
"At Ravensworth we are creating energy-efficient homes, as well as reducing their carbon footprint and whole life costs, with features such as air source heat pumps and the option of PV cells."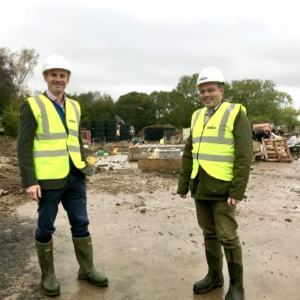 BACK TO NEWS